Grant Thornton UK LLP Implement InstaPass System

Grant Thornton UK LLP is a leading financial and business adviser with 32 offices nationwide. They are the UK member of Grant Thornton International, one of the world's leading international organisations of independently owned and managed accounting and consulting firms. These firms provide a comprehensive range of business advisory services from around 520 offices in over 110 countries worldwide.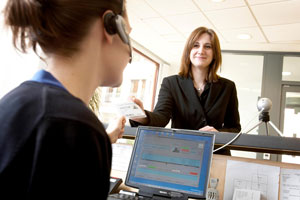 In order to create the right impression on their visitors, Grant Thornton looked for a professional, easy to use Visitor Management Software for their Reception Area. After testing several products they selected InstaPass as the best option.
Now when visitors arrive at Grant Thornton they are checked in at Reception and a professional visitor pass is printed. The car park pass is detached and handed to the visitor, with the pass itself secured in a plastic pouch and attached to the visitors clothing. The visitor's name and their escort, as well as a colour photograph are all clearly visible on the pass.
Grant Thornton are very pleased with InstaPass and are now considering a roll out to their other UK sites.