Enclosing and Mailing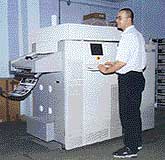 Match mailing pieces, fold where appropriate and enclose in an envelope.
Enclosing
To finally complete the business is a range of enclosing machines.
6 STATION PHILIPSBURG INSERTER WITH FULL MULLER IN-LINE CONTINUOUS SYSTEM for nest folding up to A6 sheets (12 pages) then folding to DL or A5 and inserting with up to C5 in size. OMR matching capability.
6 STATION PHILIPSBURG INSERTER for inserting up to 6 documents into envelopes up to C5 in size.
1 MORGANA UFO FOLDER off-line sheet folder for up to A3 size.
2 OFF-LINE BOWE CONTINUOUS GUILLOTINES for sheeting continuous stationery off-line to a wide variety of depths and widths.
Mailing
PCF can offer the full mailing function - print the mailing envelopes with the correct mailing option PP1 or PP2, Mailsort 1, 2 or 3 and your company details. In fact whatever we conclude you need.
To download a copy of our Direct Mail brochure in Adobe Acrobat Reader format, please click here.
If you do not have Adobe Acrobat Reader, please click on the icon to download a copy.