Response Handling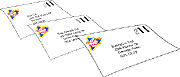 Compile the responses to fine tune the target market lists for the next direct mailing.
PCF will analyse the responses you have received to:
give you a percentage of responses in relation to the total mailing and use that information to fine tune the next direct mailing
give you a conversion rate of enquiry to order/service based on the interest area of the client/prospect
conclude the order value of your Direct Mailing and report back to you
To download a copy of our Direct Mail brochure in Adobe Acrobat Reader format, please click here.
If you do not have Adobe Acrobat Reader, please click on the icon to download a copy.