Target Market Lists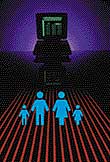 Compile correct target market lists to give you accurate direct mail not junk mail.
Do you know the right market segments for your goods or services?
Do you require specialist help to find the markets?
Does smart budgeting play an important role?
Our skill comes in matching your requirements to the right solution.
With one of the largest choices of market lists you can be sure PCF can service your target market.
The best markets to target your Direct Mail are completed from your own existing customer base. PCF can use this source of market potential to get a resulting profile of your best clients to use to extend the right target market lists.
BETTER PLANNING - BETTER RESULTS
Year 2000 Projected Spend £11.3 Billion on Direct Mail!
To download a copy of our Direct Mail brochure in Adobe Acrobat Reader format, please click here.
If you do not have Adobe Acrobat Reader, please click on the icon to download a copy.