Compuprint 9000 Series Serial Matrix Printers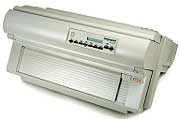 The Compuprint 9000 family is designed to meet the most demanding requirements of today's applications while offering unmatched performance in Windows and graphic printing environments. The ideal solution for mission critical requirements, with the full flexibility to support a variety of forms and documents.
The Compuprint 9060LA and 9070LA are specifically designed for Compaq/Digital compatible market. Offering the choice of modern, tough, reliable and efficient printing platform where DEC ANSI compatibility is key requirement coupled to the need for a heavy duty matrix printing solution.
DEC ANSI PPL2, IBM Proprinter XL24E, Epson ESC/P emulations
long life 24 pins print-head technology
600/700 cps at 10cpi up to 900/1050 cps max speed
dual front straight paper paths
8 copies capability
simple to use, pre-set configurations
wide range of barcodes and macro-characters
A leading-edge series for today and tomorrow
Compuprint 9060LA and 9070LA integrate the latest technology and innovation based on more than 30 years of Compuprint leadership in the serial printer technology. These models represent the preferred choice for business and industrial printing applications requiring up to 50,000 pages per month workload, providing the best investment for many years of worry free service.
Fast, flexible, reliable
Compuprint 9060LA and 9070LA are built on state-of-the art technologies and innovative functionalities. These models provide superior performance in traditional impact applications and offer the highest levels of flexibility and automation for the user with a unique paper path for superb reliability.
Easy of use
Compuprint 9060LA and 9070LA provide the most advanced compatibility with the DEC ANSI installed base and the original DEC operability. An easy to use LCD menu gives access to all the features as paper path changes and stores macros for forms set up making the printer configuration very easy and fast.