International fast food restaurant chain use PCF to improve Luncheon Voucher management
An international fast food restaurant chain requested PCF's help in designing a new system to better control their Luncheon Voucher administration.
Restaurants were receiving Luncheon Vouchers from customers, approving and registering them through the tills, but then sending them all in an unsorted bundle to their head office for storage. There was no day to day requirement to refer back to the Luncheon Vouchers, but whenever a query arose there were extreme difficulties tracing the correct bundles.
PCF analysed the process and made recommendations designed to improve controls and administration in two key areas:
Voucher Envelope Identification
Voucher Envelope Distribution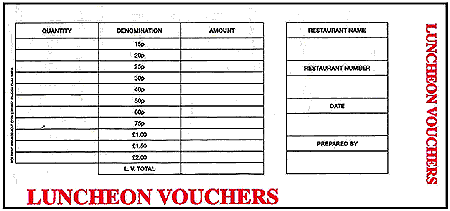 PCF designed and supplied a securely glued specialist combination form + envelope which restaurant managers would use to send the verified vouchers back to head office. On the form on the face of the envelope is printed a summary section where the manager can detail the split of the vouchers inside, broken down by the voucher value. The form is designed so that the restaurant manager can also keep a copy of this form. The back of the envelope document is made out of a transparent clear glassine film which allows inspection of the contents without having to tear open the envelope.
Also each set of voucher envelopes is personalised with unique ID references that can be used later to immediately identify the restaurant the vouchers came from.
And now to further save head office staff time PCF fully administers initial distribution of the Voucher Envelopes on behalf of the client's head office. This enables restaurants to call off extra Voucher Envelope supplies 24 hours a day by fax, phone or internet directly from PCF for delivery within 24 hours when necessary. Monthly summary reports are sent to the head office staff informing them of the quantities of Voucher Envelopes each restaurant has received.
Over 500 restaurants throughout the UK now use this system daily and as a result this international fast food restaurant chain has a highly organised Luncheon Voucher archiving system with filled envelopes stored by date and restaurant ID number. Now if there are any queries the head office staff can quickly locate the specific individual vouchers very quickly and efficiently.