Your supply of pressure seal forms

Pressure seal forms are laser printed

Now load your printed pressure seal forms into your off-line pressure seal machine or have a pressure seal machine linked off the back of your printer

The pressure sealing machine now folds and seals all of your forms in a single high speed operation ready for the mail or internal distribution

• Pressure seal forms are suitable for use on laser, inkjet and impact printers and can be supplied pre-printed in your company colours.
• Re-moist glue areas can be added for applications where the pressure seal mailer form is to be opened and then returned in the post.
• Pressure seal form cheque products are also available which fully conform to the latest APACS security designs and specifications.
• Pressure seal machines can be linked with certain laser printers directly, so cutting out any secondary paper handling.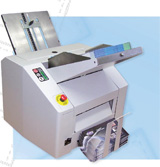 • Total Confidentiality.....
Once the pressure sealed mailer is sealed its tamper evident design makes it very difficult for it to be opened without leaving traces of the attempt.
• Efficiency......
Pressure seal forms will speed up your mailing process by eliminating the time spent folding forms, stuffing and sealing envelopes.
• Free Advertising.....
An advertisement printed to appear on the outside of the pressure seal envelope is a great opportunity to promote your products or services (the Post Office says... that up to 10 people handle every item of mail) and it is totally free.
• Reliability.....
Sealing machinery is reliable and the pressure seal process is clean, dry and odour free - ideal for the modern office environment.
• Payroll Pressure Seal – Wage Slip/P60's
• Statements and Invoices Pressure Seal
• Cheques Pressure Seal
• Customer Satisfaction Surveys
• Advertising Mailers Pressure Seal
• Change of Address Forms Pressure Seal
• Pension Advice and Dividends Pressure Seal
• Reminder/Renewal Notifications Pressure Seal