InstaCheque Software
Laser Cheque Printing System

Secure laser cheque printing for PC users

Print from Sage, Excel etc
includes 'manual' cheque writing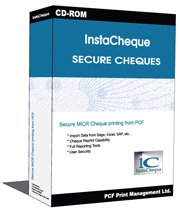 InstaCheque Software feature list
very easy to use software for secure cheque printing on XP workstations
write and sign secure 'Manual' cheques with letter or remittance
import cheque data batch files to auto-print from most finance software (Sage, Excel)
control multiple bank accounts
different users have different rights profile protected by user password
use printed or plain security cheque paper
prints bank MICR code line if necessary (using PCF!secure MICR laser printers)
auto cheque signature feature
full cheque reprint facility
comprehensive cheque printing audit reporting
email security alerts to protect from unauthorised attempts to print cheques
encrypted cheque data security
printed cheques protected by PCF's anti-fraud tamper protection systems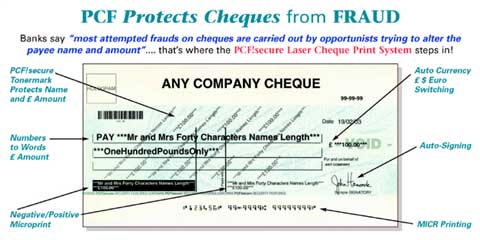 Printed cheque protected by PCF's anti-fraud tamper protection systems.
Click here for a larger version of this image.
Quickly add letters or remittance advices to the cheque, include cheque data manually or automatically from many different types of accounts systems (Sage, Excel etc).
Print signatures automatically and always securely control their use and printing.
Who needs cheque printing security?
See what some of the UK cheque authorities say:
Chase de Vere 'Cheque Fraud has been soaring at the unhealthy rate of 50%..... the main growth area has been counterfeiting and altering cheques..... the rate of cheque fraud has been increasing even though usage has been falling for more than a decade.
PIRA 'Cheques are being increasingly targeted'
British Bankers' Association 'It is in the interest of every company in the United Kingdom to protect themselves from the threat of fraud - the stakes are too high to be complacent.'
APACS* 'Most attempted frauds on cheques are carried out by opportunists trying to alter the payee name and amount'

*APACS sets the standards for cheque printing and clearing in the UK.