Payroll and Mailers
We have always designed our payroll products so that companies can give fast and accurate information to their employees.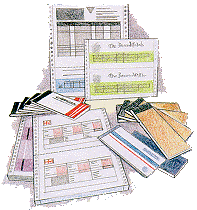 There is no need to print off payslips and fold them into an envelope when you can use products that have already done this for you......
PCF Payroll mailers offer a reference copy and a pre-enveloped payslip that is printed in one process. The outside of the envelope has the employee name and reference number and a secure block out so that no sensitive information can be read until the envelope is opened. This offers a totally confidential service with no time wasted in stuffing envelopes.
One stage on comes the pressurex one piece mailer. Imagine turning a piece of A4 paper into a laser personalised payslip AND envelope! Because you start with a plain piece of paper you can choose what you want to print. The same paper can be a payslip or an update on company pension/contributions or BOTH! You choose because you control what you print off your laser printer.
Once the form is printed pass it through the desktop sealing machine that folds it and makes a totally secure and tamper evident envelope.
This gives you speed and flexibility matched by no other payroll product (for more details see our page on Pressurex Laser Mailers).
Stock payslips are held suitable for all major accounts packages including: SAGE, PEGASUS, TETRA, MULTISOFT, GLOBAL, UNISYS ... and more.
These are just some ways your payroll can be helped. Please talk to us to see how you can do what you want to do instead of putting up with what you had to do!