Print Management Services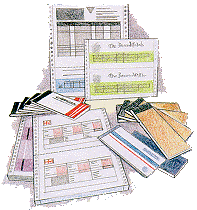 The PCF Print Management Service is designed to REDUCE your TOTAL print and usage COSTS radically.
We assess your total print usage, how your forms are designed, who uses them, where they are stored, where the people are located that use the forms, what latest document and print technology could be used to improve information movement, reduce paper use, speeding up form filing and retrieval.
Then we prepare a design, manufacturing and delivery programme specifically tailored to your business needs. A programme that will deliver major system and cost improvements.
Typical we will look at forms ranging from continuous computer forms (invoices, delivery notes etc), laser printed sheet forms (letterheads, continuation sheets etc), sales brochures, sales flyers, laser printed address labels, thermal printed bar code product labels, internal order form sets, manuals and printer ribbons/toner.
An integral part of our Print Management Service is our On-Line Print Call Off system. Our On-Line system allows your different offices and branches to very efficiently order their various print supplies, via our website client login area, while always ensuring that your Head Office administration managers know precisely what is being called off. Deliveries are then made direct to the users without involving the Head Office in any administrative burden.
To help ensure users do not forget to request a call off (and risk running out of vital supplies) we can pro-actively regularly ask them (via email) if they need to make a call off. This reminder email also includes a hyperlink direct to our website client login area, together with a reminder for them of their User Name and Password.
Just complete this request form and we will email to you your Demo User Name and Password that allows you into our client login area for Print Management Call Off control.