Barcoding, Books, Modulus Numbering and Pads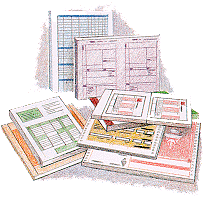 PCF supply a variety of single and multi-part forms in PAD and BOOK form for a wide range of clients. Also, many of our clients require us to produce their forms with special numbering and security features such as weighted and un-weighted Modulus numbering or Bar Codes.
One of the special features required by several of our customers is to make use of a sequential Bar Code which has a pre-fixed code which in turn relates to an area of variable data. This system may be introduced because of the many locations and depots needed to send goods to and provides a way to keep track of every item quickly and efficiently.
Business Forms and Print Management Services | Barcode Printers