Off Shelf 'Standard' Software Computer Forms for Continuous Print or Laser Printers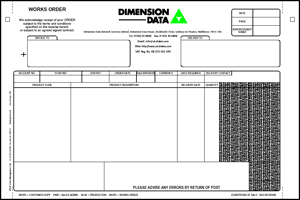 Back in 1983, PC Business Forms (now PCF) was one of the 'pioneers' of cost saving Off-Shelf standard computer forms, then just for continuous forms printers such as dot matrix printers.
Years later, we still sell large quantities of these off shelf standard continuous computer forms and laser forms regularly to end-users, computer VAR's and forms suppliers. Orders from 1 box of off shelf standard continuous forms or laser forms upwards are processed same-day or next day and shipped to clients throughout the UK.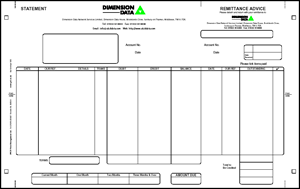 PCF's off shelf continuous computer forms and laser computer forms range is extensive, and the design and quality guarantees them to fit and run with the software packages shown below. Pricing is unrivalled by software suppliers (please call us for our price lists on 01633 415570.... our prices are designed to encourage you to buy regularly from PCF's specialist computer forms division rather than your software supplier!)
Off shelf standard computer forms are available as continuous form or A4 sheet laser form stationery.
If you want your own custom designed computer forms specially developed to promote your organisation's logo and colours, then our graphics designers can quickly ensure that your computer forms look exactly how you want and run trouble free with your accounts package.... before printing, comprehensive e proofs are sent out quickly to check you are totally happy with your new designs.
Our current continuous and laser computer forms range includes products suitable for users of Sage, Tetra, Global TIS, Pegasus and Multisoft accounts software packages (for full details please click the package name below):