Asset Tracking Management Software
Asset Tracking System using Barcode Technology .... System Overview
The PCF asset tracking management software uses barcodes on the items to identify their current location, user and owner. All item movements can be recorded using portable data terminals by scanning the item barcode and then entering the new location or new user code as appropriate. The item movements can be recorded by keyboard, tethered scanner or portable data terminal.
The views of the items in the database are all similar to a Windows Explorer view and users have four different view displays.. Owners, Users, Items and Locations. All of these displays allow `drill down' to the specific items. Each item can have unlimited descriptive fields, seen in the right pane below.
View by Location
This is the display by Location where you can see the Sites at the top level expanding down to the individual offices that contain the items. The screen shot show a typical location structure - Site, Building, Floor, Office but you can set up as many tiers as you like - department, product group etc. You can also expand and view each item at every level on the same screen.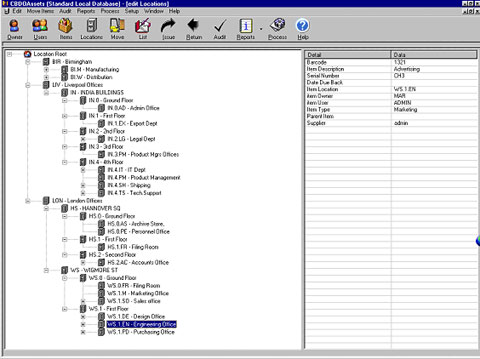 Quick Locating of Items
Even when there are hundreds of items of one type such as personnel files it is quick and easy to search for and identify a particular item in this view either by scrolling or with the built in Search facility.
Collections of Files and Parent Items
Each item can be or have a parent so if you want to identify a set of files within an Archive box you could set the Type `Archive box' as the Parent item and the files as child items of the Archive. You can then either move the whole collection with a single scan or individual items within that collection
View by Owner
The owners in this view have been set up as departments within a company but they can equally be set up as Sites or People depending on how you want to define ownership of the items
View by User
This is very similar to the Owner view but instead shows a list of company employees and the items issued to them or for which they are responsible. A user can also be an owner.
Moving and Archiving an Item
You can move a file to another location or user or archive it by moving it into an archive box. Where you want to fill an Archive box, you select the box reference once and then do multiple scans of the files. The entries can be done on the PC as above using either keyboard or tethered scanner or you can use a portable scanner to pick a list of things and then move them to new locations or users.
Issues and Returns
In a secure filing environment with a File Manager or Librarian you can issue files to an employee with a fixed due back date and produce reports of outstanding loans. A List of files to be issued or moved can be prepared using the List function. The items are selected from the browse windows and then a list can be printed showing their Locations and references. The items are then retrieved and scanned with the portable terminal.
Help
There is a comprehensive on line and printable help system with tutorial describing each operation and function including the PDT programs.
Reports
There are also comprehensive reports and an export facility to many file types such as Excel, Access, Word, CSV, Fixed length, Lotus 123, PDF etc.
Other uses for the software
Because of the flexibility in how you can set up the system it can be used for: Asset Tracking, Health and Safety Checks, Fire equipment condition monitoring, Buildings maintenance, Rental equipment & loans to customers, Library loans of books and manuals, Engineers Tool kits, Sales presentation kits, Vehicle and Plant maintenance records, Maintenance audits of field equipment and anything where there is movement of company property to another location or user.
To allow you to build a solution to match your requirements and budget the software has several versions ranging from the introductory Basic product, to the Professional and Enterprise editions.
Hardware Requirements
PCF!Asset software will run on most up to date PC's and to automate the identification of items using barcode technology users would normally require a hand held barcode scanner, and a small barcode label printer. Various types and style of equipment can be used and here we show two of the most commonly selected options.

Portable data terminals for barcode scanning
This portable data terminal can be used to scan the barcode on asset items wherever they are. Then after collecting the data, the PDT is returned to its docking station and the file uploaded directly to the PCF!Asset software database where it can be inspected for errors prior to processing.

Barcode Label Printing
Barcode label printing can be controlled from within the PCF!Asset software, all thermal transfer printers with Windows drivers can be used. After printing, the barcode label is attached to the asset item and used as a unique identifier that can be accurately scanned using the barcode scanning system the user has chosen. The size of the label printed is normally 50 x 25 mm, the user can control this size depending on how much information they wish printed on the label.