Bar Code Stock Control Software
PCF Stock is a stock control software product that enables automated stock control and product tracking using a bar code system for Windows XP/2000/NT/98 using a Microsoft Access database engine (this can be updated to Sybase where millions of transactions are going through). It records transactions and integrates data from a Portable Data Terminal which is then used to collect all the data and then transmit it to the PC. The software then manipulates the data and updates the database. The PC software includes the production of barcode labels where these are not already on the product.
The Portable Data Terminals are light and easily carried in the pocket and are connected to the PC via a docking station. The processing of collected data is done in batches and during the day you can collect receipts, despatches, stock counts etc. all with the same terminal. All the collected data can then be uploaded at the end of a shift (or as often as required). The system is also available with real time radio communications.
The Main screen is a typical Windows interface with drop down boxes from each item on the toolbar to select the options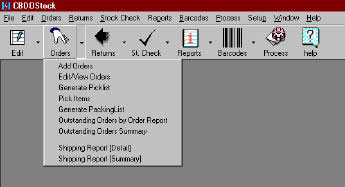 The software has many features including:
Multiple locations with traceable contents.
Product tracking.
Minimum stockholding warnings.
Drop down detailed views of product information.
Comprehensive reports - standard and custom.
Receipts and despatches.
Picking.
Address labels.
Comprehensive stock tacking feature.
Stock analysis.
Returns.
Barcode printing.
PCF!stock is an excellent, easy to use package which has the flexibility to be tailored to match your exact needs. Optional interfacing available with your existing Accounting Software to give you the complete solution.