Label Printing Case Study - Bristol Port Company

Bristol is recognised as the most economical port distribution location in the UK, reaching some 42 million people within a 250-km radius. Since 1991 the tonnage throughput has increased from 4m tonnes to 12m tonnes and annual revenue from £22m to £63m. Over £330m has been invested in the dock estate and the Port is now recognised as being one of the most productive and technically advanced in Europe.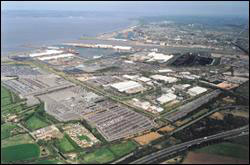 As part of the growth plan there was a requirement for large scale on demand label printing and after trialling several options they purchased 16 Zebra QL320 portable label printers. These are belt printers which are connected over a wireless network to a portable scanner used by the Operator, allowing labels to be printed and applied instantly. Because the printers are mission critical it was important that Bristol Port had an adequate support contract in place which catered for every eventuality. the barcode business analysed all options and now provide Bristol Port with a contract which:
Covers all parts and labour if a printer fails.
Gives a guaranteed turnaround time on repairs.
Installs back-up printer if repair looks likely to take longer than expected.
Gives advice on preventative maintenance
After going live with the maintenance contract Bristol Port have experienced a significant improvement in the label printing process with far less down time.