About PCF Label Products and Services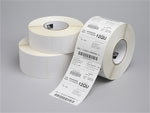 Through its dedicated labels and barcode division, the barcode business, PCF provides a range of self adhesive label / labels printing services including initial concept design work, then thorough 'on product' specification testing followed by label printing / labels print production.
Also, comprehensive in-house barcode printing and labels printer systems can be provided including printers, software, installation and support for clients that need to print barcode label / labels on the factory floor for in-line production uses, or in accounts offices for delivery and other labelling and printing requirements.
Our dedicated team of experts supply millions of labels to clients all over the UK.

The main ingredient of our success has been our ability to match clients' requirements with exactly the right face material and adhesive to perform the task. We offer experience and advice to help you find the best solutions, whether ordering stock products or developing new labelling systems.
As a company, our focus is to build a relationship with clients, evolving with them, to offer a service second to none. We have long standing relationships with many large UK companies such as Whitbread, Pizza Hut, Nightfrieght and many more.
Excellent production facilities allow us to produce up to 6 colours in one pass, as well as four-colour process. We have hundreds of different cutter sizes in stock covering all popular (and many unusual) label styles.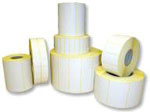 Thermal labels, laser labels, chemical warning labels and many more can be supplied on roll, fanfold or sheeted. In fact, whatever your requirement - we can match it!
Today's economic climate and changes in working practices have brought about 'Just in Time' delivery requirements. To us, a quick turn around is not an inconvenience but more a way of life. Our quality management system is geared to offering a fast and efficient service without any compromise on quality. We can also offer a completely managed print, store and distribution service.
PCF promise excellent service, a quality product and value for money.
Please click here to visit the barcode business website.