| | |
| --- | --- |
| PCF!secure CheqMate Security Cheques | |
PCF Security Cheque Software Systems
Download PCF!secure CheqMate Cheques Datasheet PDF
UK Banks' APACS Guidelines for Secure Cheque Printing | Security Cheque Signer
PCF provide high security printing for cheques, vouchers and certificates.
We design and supply pre-printed cheques which conform with the printing standards set by APACS* and, by adding PCF!secure special printing features, our products greatly exceed this security specification.
With cheque fraud on the increase, PCF's CheqMate security cheques provide high level protection against counterfeit printing and alteration attacks on cheques.
For details of security printing features, move your mouse pointer over the numbers, or scroll down the page for information on the printing features illustrated on this graphic.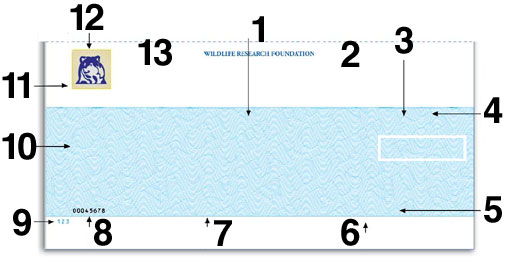 Main CheqMate features

1. CheqMate Laser Invisible UV Printing

The best cheque invisible printing deterrent against counterfeiting
Unique security printing graphics technique called micro-numismatics (patent applied for)
Guards against fraudulent alteration & counterfeiting printing
Protects every character of printing personalisation infill
Easy to detect printing fraud
Virtually impossible to re-instate
Optional extra - Printing design can incorporate your name/logo

2. Watermarked CBS1 Security Printing Paper

Counteracts printing counterfeiting
Heavy all over watermark design
Limited and controlled supply (can be an exclusive bespoke printing watermark)

3. Laser Design Printing Fugitive Technology

Fully PIRA tested and approved for laser toner printing adhesion.
Reduces ability to remove / alter laser toner.

4. Solvent Security Printing Ink

Protects against fraudulent alteration
Image bleeds when attacked by solvent based agents

5. Corporate Numismatic Printing Fugitive

Printing personalised to your corporate name/logo
Visible deterrent to alteration
Extremely difficult to reinstate/counterfeit
Created with high level banknote graphic printing software

6. MICR Number Invisible UV Protected

Highlights MICR number alterations

7. Microtext (Extra Fine)

Difficult to accurately colour copy or scan.

8. Audit Number

Facilitates accurate control of your cheques printing prior to adding the MICR number

9. Check Digits Printing

3 check digits printed in invisible blue UV
Helps to validate original cheques
Instant number validation via website

10. Aqua Security Printing Ink

Protects against fraudulent alteration
Image bleeds when attacked by aqua based agents
Fluoresces when attacked

11. Overprinted Hologram

Bespoke to your company
Prevents hologram tampering

12. Hologram

Best visible deterrent against printing counterfeiting
This security hologram is unique to the security cheque printer

13. Remittance Protect

Invisible invalid UV design
Protects against misuse of the CBS1 paper
More About CheqMate Security Features
CheqMate cheques contain unique security printing features to provide clients with high security levels.
One such feature is the internet verified audit number. This number can be checked in a protected area on the PCF website to see if it is valid when compared to other details requested and can also be used to trace the printing source of the cheque if necessary.
These numbers are also used by clients to tightly control their cheque stock issuing.
PCF highly recommend the addition of holograms to cheques since these are considered to be the best single visible deterrent against counterfeiting. Holograms can be designed for each user, or alternatively we can use a special audit controlled existing hologram which is overprinted with the client's logo.
CheqMate cheques use both aqua- and solvent-based security printing inks to protect the cheques from alteration fraud by causing a 'bleed' if attacked by aqua- or solvent-based agents.
Other protection can include micro-numismatics printing, a patent applied for unique security graphics printing technique designed to make fraud attacks easy to detect.
Many other security printing features such as temperature sensitive colour change inks, tamper evident inks, watermarked security papers and ultra violet sensitive inks are all readily available to help protect your cheques, vouchers and other sensitive documents from fraudulent attack.

To ensure high level 'end to end ' protection, use PCF!secure CheqMate cheques in conjunction with the PCF!secure Laser Cheque printing software and PCF!secure Laser Cheque printers.
Business Forms and Print Management Services | PCF Security Software and Print Products