PCF!secure Laser Cheque Printing Software for Secure Printing
Information on Secure Cheque Paper - PC User InstaCheque Software

This in house printing system is designed as an anti fraud print protection system. Providing security against 'external' printing fraud attacks such as attempts to amend sensitive financial details on printed cheques and against 'internal' printing fraud attacks where unauthorised personnel may attempt to make in-appropriate payments which could damage the credibility and finances of the organisation they work within.
Security Cheque Signer Info * Encrypted Print Data Software
Download PCF!secure Laser Cheque Software Datasheet PDF
PCF!secure MICR Network Laser Cheque Printing Software
The PCF!secure Laser Cheque printing system uses
specially developed proven PCF!secure MICR network printing software
APACS and PIRA approved PCF!secure range of Troy MICR cheque laser printers
APACS approved security cheque printing paper for all base stock cheque supplies
The system can print the complete cheque layout, logos, variable printing data, MICR coding, signature, attached letters / remittance slips in one high speed printing process.
Existing clients include well known organisations such as Budget Insurance, Chase de Vere finance, EMAP publishing, esure finance, Ladbrokes betting, Telegraph Group, Warner Music and many local government councils for client, supplier and benefit cheque printing.
Is Cheque Printing Fraud a Real Problem? Yes, but don't just listen to us.
British Bankers' Association 'It is in the interest of every company in the United Kingdom to protect themselves from the threat of fraud - the stakes are too high to be complacent.'
PIRA 'Cheques are being increasingly targeted'
Chase de Vere 'Cheque Fraud has been soaring at the unhealthy rate of 50% over the past year..... the main growth area has been counterfeiting and altering cheques..... the rate of cheque fraud has been increasing even though usage has been falling for more than a decade.
APACS 'most attempted frauds on cheques are carried out by opportunists trying to alter the payee name and amount'.....
Ernst & Young calculate that 1.19% of all USA cheques are fraudulent... view the Cheque Fraud Risk calculations Now.
Click here for a quick comparison chart showing the key benefits of our printing system when compared to Non-secure laser A4 sheet printing or Impact printing using continuous printed cheques.
PCF!secure MICR network Laser Cheque Printing Software
The printing software operates on Microsoft Windows NT/XP/2000/2003 networked servers and workstations and has seamless connectivity with many different accounting systems such as Academy, JD Edwards, Mfgpro, Pegasus, Oracle, Sage, SAP, SX3 and many others.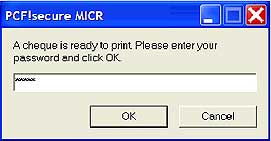 Usually no changes are required to existing accounts packages to create the 'data link' and there is no limit to the number of secure printing user seats.
All permitted cheque users process the cheque payments through their existing accounts package. Then when they require to print cheques PCF!secure sends a permission request to a more senior manager before any printing run of payment cheques is allowed to print. The senior manager has the ability to review remotely the complete payment file before allowing the cheque printing to be carried out. This remote approval work can normally be carried out on whatever workstation the senior manager is working at.
High level data encryption technology is used to protect the payment files before authorisation and printing is carried out.
Automatic cheque printing and signing is controlled for the various approved cheque supervisors and the £ amount at which certain cheques are signed by higher authority managers can be set into the software printing and signing rules. Multiple currency payments can be handled in one payment file and variable letters and remittance pages printed automatically with each cheque.
MICR account number details and cheque numbers are printed onto the cheques by the system allowing multiple bank account printing from a single payment print file without separate routines and using a corporate designed security cheque paper stock.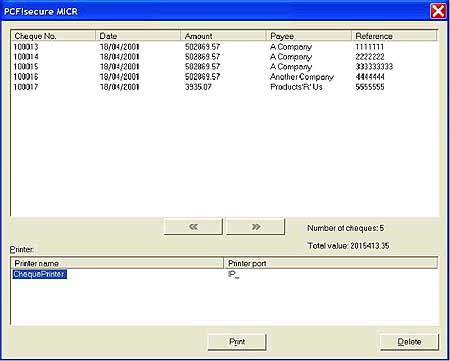 An optional feature of the software allows for 'manual' cheque printing and writing where the variable cheque print data is typed in by the approved cheque supervisor without the data first being processed by the user's accounts software. This option is equivalent to a computerised 'cheque book' for flexibility but ensures that only approved users can have access to the 'cheque book' and all data entered for these manual cheques is collected for automatic input into the main accounts system later.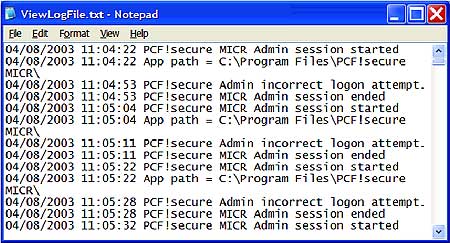 Comprehensive audit trail logs are maintained to enable full history reporting of who approved the printing and printed which cheques and a security controlled reprint feature is included.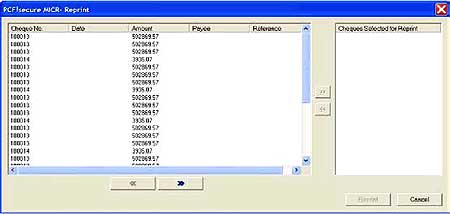 Payment data files can also be linked with PCF's BACS IP electronic payment software so that cheque printing and payments and BACS payments can be separated and processed automatically from the one initial accounts software payment file.
PCF!secure 'Alteration' Fraud Protection
PCF uses a number of different techniques to provide 'alteration' fraud protection against attempts to change the payee names and £ amounts on finished and printed cheques.
PCF TonerMark - this system allows the payee name and amount to be repeatedly printed across the body of the cheque in a light shade at a 45 degree angle. It is a very visually effective way to deter potential fraudsters from amending any details on the cheque since they will need to achieve the changes in up to eight printing positions, and all unnoticed.
Numbers to Words conversion - all amounts in numbers can optionally be converted to words with no spaces between the words to make printing and adding additional letters very difficult and this feature is available in 10 different currencies for payments around the world.
MicroPrint Protection - all payment printing details are additionally printed in a reversed white on black micro text for further protection.
Barcode Encryption - the payee name and £ amount can be encrypted and converted into a barcode which is printed onto the cheque during the printing process. This both acts as a fast data input mechanism for when the cheques are banked and as a security mechanism to further confirm that the payee name and amount are exactly correct.

The PCF!secure LaserCheque printing package can include either a PCF!secure Troy 2015 MICR Secure printer (27 pages per minute), PCF!secure Troy 2420 MICR Secure printer (30 pages per minute), PCF!secure Troy 3005 MICR Secure printer (35 pages per minute), a PCF!secure Troy 4250 MICR Secure printer (45 pages per minute), or a PCF!secure Troy 4350 MICR Secure printer (55 pages per minute).
These printers are based on the HP series of printers, have been enhanced specifically for secure MICR laser cheque printing and are fully APACS approved by the UK banks.
Some of the main security printing features include:
Security Key Locks to enable/disable the printer and control the MICR print feature
Security Key Locks to secure paper in paper trays
NOTE: APACS is the organisation that sets the standards for cheque printing and clearing in the UK. These MICR printers are APACS approved, as is the MICR toner required for these printers.
PCF!secure Laser Cheques Paper Stock
The cheque styles and designs in the PCF!secure Laser Cheque printing system conform to all APACS standards and recommendations.
Security features can include 'numbers to words' conversion to deter fraudulent changes to the amount and a PCF!secure toner-mark where the payee name and amount detail is repeatedly printed onto the background of the cheque as a light and subtle 'watermark style'.
Other printing security features include holograms and thermo sensitive or UV or chemical protection inks and the cheque stock is pre-numbered for audit and issue control.
Also supplied are auto-enveloping pressure seal security laser printing cheques with desktop pressure seal machines available when high speed tamper evident secure enveloping is an important requirement to complete the whole secure cheque printing process.
Download PCF!secure Laser Cheque Software Datasheet PDF