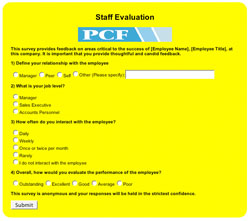 We all need to know more about our clients because the better we know our clients the better we can sell our products and services to them.
InstaSurvey is software which helps organisations carry out surveys independently in an Internet environment. The whole process from form design to automatic report generation is in one convenient package. The InstaSurvey solution is used by a wide range of companies and organisations worldwide, for both internal and external customer and client surveys.
You design your own questionnaire using multiple choice questions, the system will automatically report back and summarise all the answers on all the questionnaires ... saving you hours of processing time.
Click below to see example online survey forms:
Features & Benefits of the software include:
Easy-to-use - surveys can be implemented quickly and easily as the need arises
No need for heavy introductory training (a 2 hour session is all that is required)
The survey form can be linked to a website or sent to e-mail addresses
An easy-to-read, complete report on results is immediately available - saves staff time
Customers can view the results on their own systems in chart form
Unlimited use for a fixed annual price
To use the application you only need an Internet connection (ASP application)
Over 1500 organisations are already using the InstaSurvey software including:
Advansis
Airiston
Alcatel
Cimcorp
Citycon
Compass Management Partners
Comptel
Computer Program Unit
DA-Design
Dagmar
Digita
Done Solutions
Dowell
Elisa Communications
Face Time Promotions
Falck Security
Finnair Stadium
F-Secure Corporation
Hobby Hall
Hunting Minds
Image Wear
International Business Systems (IBS)

KCL
Leaseplan
Mayday Media Center
Mercuri Urval
Metorex Security Products
Miratel
MSK-Group
Multiprint
Nesco
Nestle Purina Petcare
Novintel
Pfizer
Pilkington Automotive
Pretax, QPR Software
Savcor Group Ltd
Smart Contact
Stockmann
Sun Flex
Teboil
Top Press
TQM Consultants Ltd
Wincor Nixdorf
Click below to see example online survey forms: