Createform Electronic Form Output Document Management Software
Including Laser Print, E-mail, and Fax Distribution
| | |
| --- | --- |
| PCF is proud to be partnered with Create!form International, a leading provider of electronic form and document management software systems. | |
PCF distributes a variety of Createform output document management software products designed to seamlessly integrate into existing business systems, enabling organisations to replace expensive pre-printed forms with customised forms that can be centrally managed and distributed.
PCF markets and supports the complete Create!form document management software range throughout the UK to clients in financial, manufacturing, retail, transport and mail order such as Littlewoods, Virgin Atlantic, Mothercare and others. Also PCF works with Local Councils all around the country installing the document management software to reduce their printing costs substantially and improve the presentation of all their documents. PCF offers a complete range of forms design services.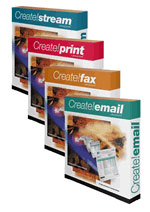 Create!form document management software allows you to design custom electronic forms that are automatically merged with your application software's 'raw' output data from various computer platforms such as WindowsNT/2000, IBM AS400 and UNIX. The document management software provides automatic output alternatives including printed multi-part forms in black & white or full colour - using plain paper and your choice of networked printers (laser, dot matrix, thermal). Or you may decide to output in any of the following 'electronic' alternatives: email (with attached PDF form file), email with just raw text (for mobile phone or palm pc collection), PDF for archive filing and internet retrieval, fax or XML.
The document management software has a 'modular build' design which allows clients just to install the features they require, it then becomes suitable for mid-range desktop accounting systems all the way through to major ERP systems supporting multiple sites within international organisations.
User' existing network printers can often be used with their Create!form document management software. However, PCF does provide a range of Specialist Computer Printers that offer features such as low cost laser colour printing, special paper handling such as collating and stapling, high speed label print and security laser print for cheques or certificates.
Please browse through the individual modules below and request data sheets on the areas you require more details.
Note: All data sheets and documents available from this page require Adobe Acrobat Reader. If you don't have a copy, click the button to download a free copy now.

---

Example Standard Company Document BEFORE and AFTER Create!form Re-formatting and design work

For a Standard Line Printer or Text Output (BEFORE).
For the Same Text Output AFTER Create!form Text Reformatting and inclusion of logos and design elements such as Corporate Typefaces and forms design.
---

Create!form ®

A host based e-forms solution that merges spool files from your AS/400, NT or UNIX, with e-forms designed on a PC for printing, faxing, emailing or archiving.

---

Create!form ® for JDE ™ OneWorld ® and PeopleSoft

Create!form ® for JDE ™ OneWorld ® and PeopleSoft, delivers unique, seamless integration of e-forms to J.D. Edwards ™ OneWorld ™/PeopleSoft users, and has certified integration to both OneWorld ™ and PeopleSoft.

---

Create!stream ™ output file management

Create!stream is an advanced e-document management software and distribution solution that allows you to prepare, format and distribute your documents using Create!form's delivery products.

Also, Create!stream provides an interface to other PCF products to enable XML output, auto SMS texting alerts, and partially completed internet delivered eforms (used in e-commerce applications such as Time Sheets, Purchase Orders or Sales Orders, which are then fully completed by the receiver with their extra order data such as quantities required. When the eform is returned, it automatically updates the sender's application software with this new data).

---

Create!fax ™

Create!fax delivers your Create!form documents instantly and efficiently.

RightFax

RightFax software is required for using Create!fax, other fax solutions can be worked with.

---

Create!email ™

Create!email allows you to send your Create!form documents via email instantly and efficiently.

---

Create!archive ™

Create!archive works in conjunction with Create!form to automatically store and index your documents for quick, easy and secure retrieval across a network or the Internet.

---

secure cheque printing with Create!micr ™

The Create!micr module works in conjunction with Create!form and Create!flash to automatically print cheques - use with a PCF!secure MICR laser printer.

---

PRINTER BASED SOLUTIONS

Create!flash ™

Create!flash is a printer based e-forms solution that merges spool files from any system with an e-form designed on a PC, all directly on your Create!flash enabled PostScript printer.

---

SUPPORT SERVICES

 

PCF offer a range of Create!form support services, including: Maintenance & Support, Telephone Support, Training, Consultancy, Forms Design, Scanning & Tracing

---
Electronic Forms | Electronic Forms - Sample Forms and Case Studies
| | |
| --- | --- |
| Create!form, Create!stream, Create!email, Create!archive, Create!fax, and Create!micr are trademarks of Create!form International which may be registered in certain jurisdictions. | |