Acis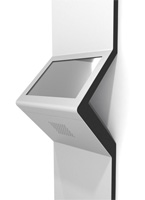 Whilst most applications work well with a single screen for user interaction, there are some that benefit from the addition of a second screen for advertising purposes.
Acis has been designed from the outset to work with single or dual screens, and the upper screen has a portrait orientation ideal for advertising.
The upper screen is a 22in LED backlit high-definition display with 1050 x 1680 resolution. The screen can be driven from the integrated computer, or alternatively from a stand-alone media player. The upper screen is ideal for showing advertising, promotions and other information e.g. Pricing, Opening times etc.
Features
Wall mount design
15in screen
Capacitive touchscreen
Great for branding
Cables hidden from view
Antibacterial coating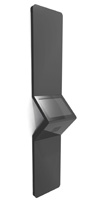 Branding
A large brandable area which can be combined with the optional second screen and wall lighting module, Acis looks fantastic in deployments. With the 15in screen fitted as standard, Acis kiosks are ideal for use in retail (stock check, ordering), touch screen surveys and virtual applications.