Figur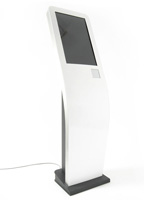 Figur is a narrow touchscreen kiosk with a portrait display.
Figur's slender design fits where other kiosks are too wide, but still includes many of the advanced features and options found in our other designs.
The portrait display benefits applications that use on-screen keyboards, allowing the kiosk to keep its form.
As an option, Figur can be supplied with
Integrated Chip & Pin
Receipt Printer
Bar Code Scanner
Why use a portrait screen?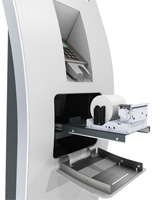 The unique portrait high definition screen at the heart of Figur presents the applications developer with many advantages including:
Easily find room for permanently on touchscreen keyboard
Split the screen vertically to present website and advertising messages in separate areas
No need to scroll the screen - full height provides 1680 pixels vertical resolution.
Narrow enclosure which fits anywhere.
As an Exhibition Kiosk
For companies exhibiting at trade shows, space is always limited. Touch screen kiosks are a great way to showcase more products, and the Figur kiosk is ideal as a touchscreen exhibitions kiosk due to its narrow width.
Visitors to your stand can browse your products (via your website or other method) and use the multi-touch screen to zoom into product photos.