MyKiosk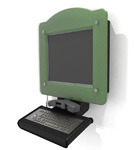 Wall mount kiosk
myKiosk is a flexible, expandable, environmentally friendly internet kiosk system with the added feature of a fully customisable plastic bezel.
The information point kiosks are designed to present a friendly interface to access public services or other applications, and are ideal for use in local councils, as well as private businesses.
Applications:
Internet Kiosk
NHS Information Point Kiosks
Information Kiosk
Arrivals Kiosk
DDA kiosk
Visitor welcome kiosk
Family information services kiosk
Kiosk for local councils
Museums kiosk

Desk mount option
myKiosk does it all! Whether you are looking for a wall mounted kiosk, or a desk mounted kiosk, mykiosk's innovative design ensures that you can use the same kiosk design in both applications.
This enables you to provide the same service at different locations, with the same easily recognisable information point.