Eidos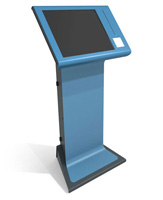 Eidos - the all-new, free-standing DDA kiosk is designed equally for wheelchair accessibility and fully mobile human interface.
Eidos is a truly stylish and modular kiosk platform for wide ranging applications.
Eidos from PCF has a timeless style, and is a full function kiosk with multitouch touchscreen as standard.
Eidos is designed to give easy use by children, adults and wheelchair users alike - in fact it is one of a small number of truly DDA compliant kiosks available today. The Eidos design has been honed to perfection over a number of years featuring many user-inspired additions and upgrades.
Eidos Kiosk Applications
Eidos fits many and varied touch screen applications, and semi-custom versions have been designed to suit libraries with high-gain RFID readers, as well as RFID versions for process control in an industrial setting.
Virtual reception kiosk
Patient information points
Product info
NHS and healthcare applications
Industrial and process control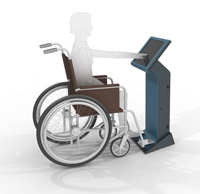 Eidos truly is a universal floorstanding kiosk for all seasons - at home in corporate HQs, 'cool' in schools, and businesslike for public service organizations.
Eidos has a universal appeal, and can be used as a stylish information touchscreen right through to a full function retail transactional kiosk, with barcode scanning, printing and loyalty card use simultaneously - all functions usable easily from a wheelchair in addition to standing adults.
The standard kiosk design includes white (or blue) illuminated screen with choice of 19in or 22in widescreen with touchscreen fitted.
Powered by the latest Intel Atom (with upgrades available) computing platforms designed for industrial applications for long life in harsh environments.
The kiosk includes access doors on both sides to get to the computer, or provide access to change print rolls. Sturdy and stable, the Eidos kiosk can also be ordered with optional floor fixing kit to bolt down to the floor.