Information Kiosks
Acis | Eidos | Figur | myKiosk | Nixi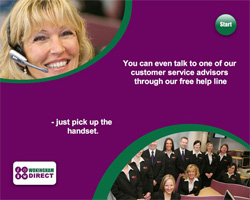 Information Point
Information Point Kiosks are a complete solution, designed specifically for delivering information in public service - councils, NHS & healthcare, as well as other applications.
Information Point satisfies the need to deliver live, relevant and up to date information to parents and carers of children.
The touch screen information kiosk solution combines many features, both in software and kiosk hardware, and the system is strongly focused on ease of use for both service users and administrators within a Local Authority.
Kiosks are available with touchscreen, stainless steel keyboard, and integrated telephone handsets.
The Information Point Kiosk system consists of three main components:
Touchscreen kiosk system complete with digital telephone handset
Information Point software
Back-end administration and maintenance systems
Measurable
Every time information is delivered by the system to a user, this event is recorded into a log. This way, very detailed reports of user activity are available to the customer, anytime, using the web-based self-serve Management Console. These reports are central to any audits of information delivery by central government, and also permit effective administration of the system on an ongoing basis, so that information delivery can be optimised.
Easy to use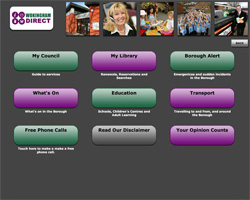 It presents a simple and effective menu system to the user, such that information is easily accessible in no more than 3 touches of the intuitive screen menu.
We understand that users of PIP who need the information most will not necessarily be skilled with computers, so we have been very careful to remove as much computer jargon as possible and to optimise the GUI (graphical user interface) for efficient navigation.
When not in use, the system defaults to a colourful animated attract loop, which is specifically designed to attract the eye of potential users.
Safe and Secure
This system is designed for use in Children's Centres, therefore it is mandatory the system is safe to use without the possibility of unsavoury content reaching the screens.
Most typical approaches to internet security employ the use of a blacklist, which allows access all areas unless on the blacklist. Therefore, general browsing through external web links is permitted. However, the blacklist must be kept up to date continually, and there are no guarantees.
Parent Information Point is not a browser. It provides very specific access to very specific pages. We use a whitelist approach, which permits no access to areas unless on the whitelist. This means access can be permitted on a per page, per folder or per domain basis; for example:- this translates to a page within www.bbc.co.uk/cbeebies, the whole of www.bbc.co.uk/cbeebies or the whole of www.bbc.co.uk.