Form-mail email software for emailing business forms and emailing accounting forms
FORM-MAIL Software

Quick Overview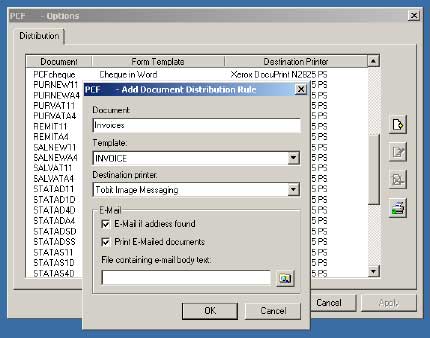 Design your Invoice form using Microsoft Word software and call the design template INVOICE then set your distribution rules using FORM-MAIL. These rules will control how FORM-MAIL links your invoice design to your invoice output data from your accounts software and will control how the form is emailed or printed automatically.
FORM-MAIL sends business forms automatically as emails straight from your accounting software and the emails can look just like your existing pre-printed business forms using your corporate colours, logos and normal 'look'. (Or by using our professional forms designers we could quickly provide a selection of forms designs especially for you).
Any changes you need to make in the future to the forms designs or address details etc. are easily achieved using standard Microsoft Word software.... ....so to email your next invoice run just select FORM-MAIL (instead of your PC printer) and click your 'Print' button.
And if you are concerned about internet privacy (say for payslips or personnel forms) FORM-MAIL has a built in PIN security system using 128k encryption which allows you to allocate each of your clients or employees a unique PIN password of up to 32 characters so that only the correct PIN holder can open and read their private emailed forms.